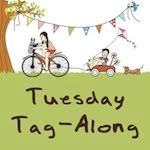 Click on the picture for more info on how to join the hop!
If you are here from Tag Along Tuesday Blog Hop, Hello! Leave me a comment to let me know you are a follower and I will follow back!
Thanks for checking out my blog!
Some of my favorite pictures from this last week :)
Cody playing with his SpiderMan Splash Mat and Karate Kicking!
Who are you Tuesdays
Here are this weeks questions!
1. Have you ever broke a bone or anything on your body?
I have never broke! Thank Goodness! I got lucky I guess considering I skateboarded for 4 years and never used padding!

2. What is your favorite drink?
I really love Chai Tea Lattes but, I only love them from my friends coffee shop because they have organic chai tea lattes and they taste amazing!!

3. When is your birthday! You don't have to tell the year you were born!
March 21th 1986

4. Do you have an allergies?
I don't have allergies and I'm not allergic to anything :)

5. What is one of your all time favorite movies?
This is kinda hard. A childhood favorite has been Ferngully!! Then I would have to say Zoolander for my all time! haha, I really can watch it a million times over!